On Tuesday 9th March 2021, Bardege ICT finally reopened to the public having closed off its premises close to a year ago.
The center which is located in the outskirts of Gulu City closed down in 2020 following a government directive on 18th March 2020 that suspended all public places.
Since then, users who previously accessed the ICT Center have had to endure a long wait as the management of the learning center decided on the most appropriate time and how to open.
With schools also reopening Bardege ICT Center's reopening offers the opportunity for students to carry out personal reading and even online research.
In the time that the library has been closed it has undergone a major facelift with renovations to the building and had a new paint job which has seen the old yellowish color replaced with a new bright blue color.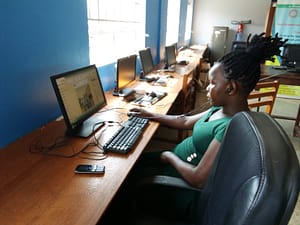 The transformation has also been extended to the internet service which has been improved with more bandwidth allocation to the center signaling increased internet speeds.
Also available at the center will be training opportunities for users in computing skills like networking, windows server management, programming and Client operating systems among others with the center currently running an internship program in collaboration with TheICTLabs, a Kampala based ICT training center .
With the continuing risk of COVID-19 pandemic, Bardege ICT center is opening with new guidelines meant to protect its users and staff alike from the risk of spreading the virus.
New Guidelines for Users:
Before admission to the Library, users will be required to wash their hands with clean water and soap /sanitizer.
Users shall wear their masks while at the library.
The library Management will check the temperature of all users using a hand-held temperature gun- Bardege ICT Center reserves the right to deny access to those above 37.0°C.
All users will be registered and their details including names, telephone contact, temperature reading and time of arrival will be captured to ease contact tracing.