For thirteen years now Bosco-Uganda as a Non-Governmental Organization (NGO) has plied its trade connecting the communities of rural Northern Uganda on the internet grid and achieved commendable success only credit to its special working relationship with the people that goes beyond ICT.
It's a mutual friendship that is built right from the moment the BOSCO Uganda team walks into an community, it's team members are integrated into these villages and from one place to another, one project onto the other the fires of this understanding are fueled by an understanding of the community; its values, norms and challenges which the organization tries to address in relation to ICT.
So while Bosco-Uganda facilitates the projects with the support of its donors and partners like the 48 Percent foundation who are currently supporting Bosco-Uganda to extend its network in the inaccessible areas of northern Uganda like Rackoko Trading Center, the implementation of such work would be impossible without the good will and blessings of the communities who welcome the organization to their homes, offer their services and often like in the case of places like Latanya sub-county, Pader District, offer Tower space at no cost to allow BOSCO Uganda mount it's ICT equipment.
More than ICT:
Although BOSCO Uganda's mandate mainly revolves around connectivity and ICT, the relationship it has with community spans beyond technology into business where Bosco-Uganda activities support livelihood in the different parts where it does its work.
How it works is that teams from Bosco-Uganda always use local service providers, for almost all their work, so businesses and individuals from the communities offer services like meals and refreshment, raw materials and manual labour which is locals in construction, collecting water and even ferrying materials and equipment to the different sites for construction.
"When BOSCO Uganda officials come here, they make our lives easy by offering us business" says Jennifer Aciro, a local service provider who operates a restaurant at Amoko trading center.
Before her interface with Bosco-Uganda in 2018 through participating in a traditional food cooking competition arranged by the organization in Agago, Aciro was mainly a subsistence farmer who grew food for her own consumption, but when she came in as second runner up at the event she introduced herself to the organization.

Aciro explains explains how to cook Acoli traditional foods Lawinya and Lakilikili at the local food
cooking competition organized by BOSCO Uganda in 2018
So from BOSCO Uganda's visits to Latanya came the opportunity to provide meals and it's one she took and became the go-to person for meals every time the Bosco-Uganda team is in the area- a responsibility  that she admits has made her life better.
"From the money I've earned selling food to BOSCO Uganda's team I've been able to buy a cow that recently birthed, it's a reason I really love Bosco-Uganda and if the cow had been nearby, I'd have shown it to Daniel (Project Coordinator) and extended my continued gratitude to him for the impact him and Bosco-Uganda have had on my life" she says filled with pride.
BOSCO Uganda's Policy to use Local service Providers:
Stories of BOSCO Uganda supporting livelihood are a common feature in the communities where BOSCO Uganda and according to George Odoch, the Chief Operations Officer at the Organization, it's not by accident that they support local communities but rather a conscious decision taken by Bosco-Uganda to give back to the community and make the lives of community members better even in the smallest way possible.
"The money that we bring is to leverage life, same as the ICT and to say that we work with the community isn't only about bringing them ICT services, it's involving them in the whole process, so the decision to use their resources, eat their food and pay local service providers is all to boost their income, participation and recognition."
According to Odoch, the involvement of locals throughout the project and supporting their livelihood ensures that they're able to take responsibility and own these projects and play a more active role in the running of the ICT center once they're eventually set up.
Supporting Youth to meet Basic needs:
It is some of the income earned from provision of such services that helps youth in the area to meet a few of their immediate basic needs and the recent Internet Society (ISOC) sponsored visit to Latanya to construct a tower on Owilli Hill which employed close to 60 people in different capacities was a testament to that.
"The money that we've get from our labour will go a long way in helping us buy things like soap, sugar and even for those of us who have wives, it's money that can help our families" says Oweka Samuel, a 31-year-old resident of Amoko Village who has worked with the BOSCO Uganda team on two occasions offering manual labour during construction projects.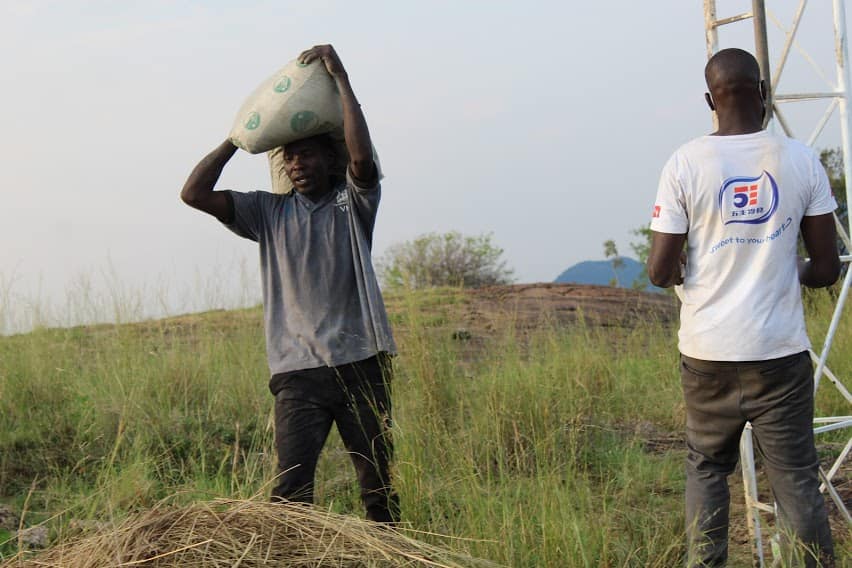 Beyond the Communities where ICT services are set up, businesses and service providers also reap from the visits of BOSCO Uganda to their communities, accommodation service providers like Atimi Kica Guest House where the team stayed on its recent visit to Pader district last week earn revenue for their services as their try to recover after being out of business during the COVID-19 lockdown period.
"The lockdown period was unbearable since we could go for even close to a week without customers so to have organizations like BoscoUganda come to Pader and choose to stay with us is something that we are really grateful for since it earns us money" say Wilfred Obita, the Manager at Atimi Kica Guest house.

As Bosco-Uganda continues to build networks and bring connectivity to the rural communities of northern Uganda, the strength of these relationships is often tested sometimes due to poor communication occasioned by poor roads and lack of telephone network in most communities in rural northern Uganda but nonetheless the organization strives to strengthen its friendship with the communities since it's work depends on it.