Community network KICTANET's regional Coordinator for Community networks, Catherine Kyalo recently made a trip to Uganda where she visited BOSCO Uganda and in this piece, she gives an account of her experience with BOSCO Uganda.
By Catherine Kyalo
The long journey to Uganda – The Pearl of Africa started at 5 am through Nairobi International Airport, an hour's flight to wet-chilly Entebbe International Airport, followed by a 5-hour drive to hot-sunny Gulu through long stretches of virgin land, longest horned Ankole cows I have ever seen, and over guarded Karuma bridge. Standing over the most beautiful sight of the ravaging Nile, the Karuma bridge is heavily guarded.
Despite unmarked warnings of no photography, for reasons I was to understand later (fear of terrorism), I could not resist, ignorance that cost me 20,000UGX, but earned me armed friends and after much friendly conversation, beautiful photos nonetheless.

My expectations of rural Gulu are quickly thwarted on arrival with the best road network since my arrival at Entebbe, a busy town center, and a range of beautiful hotels.
History
Gulu is located in northern Uganda, 333.6 km from Kampala. Marred by 20 years of civil unrest and displacement caused by Lord's resistance army war (1986 – 2007) resulting in internally displaced persons' camps, Northern Uganda was isolated from access to the internet and technological developments.
One founder member of BOSCO Uganda based in Indiana, a catechist from the USA began a partnership with the Archdiocese of Gulu in 2007 to pilot a program (Battery Operated system for Community Outreach) to deploy low-power solar PCs to connect 6 Internally Displaced Person camps spread across Gulu and Amuru to the internet.
The project connected camp schools, community centers, parishes, and health clinics, beginning a digital revolution within Northern Uganda.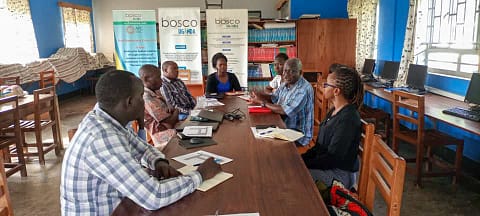 I had the great privilege of meeting Father Joseph Okumu, the co-founder of BOSCO Uganda who is still at the forefront of advocacy for a better policy and regulatory environment for new community networks to emerge, and existing ones to thrive and become sustainable.
While explaining the history of BOSCO Uganda and his passion for connecting underserved communities in the north of Uganda, Father Okumu quotes "the internet is a human right," noting how the internet has impacted the quality of education, and health care and raised the literacy level of these communities, opening up the north to the rest of the world.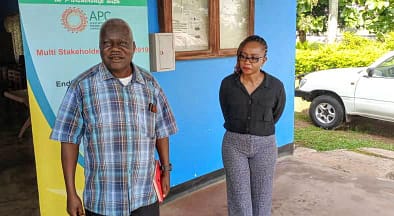 While BOSCO Uganda is autonomously maintaining responsibility for employing local staff and dealing with day-to-day operations (content development, digital literacy training of community members, stakeholder engagement, and expansion of the network), its parent organization BOSCO USA, holds positions on the board of directors, to help fundraise, build capacity within the organizational staff and help to vet new low power wireless solar technology for use by BOSCO USA and BOSCO Uganda networks.
Expansion
BOSCO Uganda's vision has grown to 54 ICT centers, all solar-powered, connecting 20 institutions and covering 13 districts across Acholi, Lango, and West Nile regions.

There are three hotspot locations, all solar-powered, in Bardege ICT center, Gulu main market, and at Rackoko town community center in Pader district.
The last two were set up in partnership with 48percent organization in a project named "network back-bone extension" implemented across 5 organizations identified by The Association for Progressive Communications (APC), aimed at bringing internet connectivity to the isolated communities as a response to the COVID-19 pandemic.
The aim of the project matched well with BOSCO Uganda's vision of " Open and peaceful rural communities ready to face the challenges and opportunities of the globälized world in the 21st century". The CN uses a captive portal that uniquely identifies a user on their hotspot.
BOSCO Uganda has two gateways, one at Bardege ICT center and another at Radio Maria, a Catholic FM radio station located near Gulu Main market.
The national fiber backbone codenamed National Data Transmission Backbone Infrastructure and e-Government Infrastructure (NBI/EGI) reached Gulu in 2015 and BOSCO Uganda connected to it in 2017, their longest link being 135 km.
National Information and Technology Authority of Uganda (NITA-U), the government arm that regulates all ICT service deliveries as well as service licensing (NITA-U) helped to negotiate for favorable bandwidth cost from their service provider, Soliton Telmec. The average download speed at Bardege ICT center is 7.12mbps and an upload speed of 11.8mbps with a latency of 16ms.
Partnerships:
BOSCO has formed many partnerships in areas of funding, capacity building, bandwidth negotiation, and policy advocacy. Amongst its notable partnerships are:
Association for Progressive Communications (APC)
48Percent
UNICEF (United Nations Children's Fund)
NITA-U
HORIZONT3000
JICA (Japan International Cooperation Agency)
War Child Holland
University of Notre Dame
Accenture Development Partnerships
Uganda Communications Commissions
BOSCO Uganda has had a long-standing partnership with the APC since 2019 and has had various projects funded under the APC-LocNet initiative and these include:
The Connecting the unconnected Local Access Network (LOCNET) project (March 2019- December 2019):
The project was funded through the community Network Learning Grant and through it, they held a multi-stakeholder event that attracted 67 participants including regulatory bodies (NITA-U and UCC) to create awareness about community networks. .

BOSCO Uganda has also been able to participate in a peer learning exchange, visiting Zenzeleni networks in Mankosi, Eastern Cape, and hosting fellow community networks; Zenzeleni (South Africa), CYD(Malawi), TunapandaNet (Kenya), and PamojaNet (DRC Congo).
Upgrade of power at Bardege ICT Centre and adoption of datahub (July 2019 – December 2019) through PathFinder grants.
This facilitated the upgrade of power at Bardege ICT center to 2.2 KW and the adoption of a data hub.
Community Network Institutional Strengthening: (July 2020 – October 2020)
Focused on reflection on its institution capacity dubbed SWOT (Strengths, Weaknesses, Opportunities, Threats)
Strengthening BOSCO Uganda Institutional Development Project: (March 2020 – December 2021).
Under this project, BOSCO Uganda has been able to strengthen its operations in areas of staff capacity building, enhance governance, develop a strategic plan and internal policies, and increase its revenue through market surveys.
Community Networks Travel Fund (December 2021 – March 2022)
Under this project they held a training workshop and hired a consultant from the National Curriculum Development Center to train 8 participants (4 BOSCO staff and 4 teachers from a partner school) on content creation, curation, and dissemination.
At BOSCO, Community ownership is fostered through;
Community provision of space for the ICT centers while BOSCO Uganda comes in with the infrastructure.
Capacity building within community members to manage the ICT centers and reduce dependency on BOSCO Uganda who only come in for infrastructure audits, training, and major repairs/replacement of equipment.
Community ICT staff help to gather community members for digital literacy training which they do by attracting them through activities of interest like cooking competitions and mat making. Women are reluctant users of the internet across these centers, and such activities help to bring them to the center and thereafter, training on digital literacy.
Ownership of radio stations promoting local content.
Currently, BOSCO Uganda has facilitated the emergence of 4 radio stations in Oyam at Aber sub-county, Pabbo town council, Patong town council and Kitgum youth center.

Most notable for me are the Gwokke Keni people living with HIV/AIDs and orphans and vulnerable children (Gwokke Keni PHAs and OCVs networks), also known as radio in a bucket because the radio equipment is literally in a bucket.

Gwokke Keni means "take care of yourself" in Acoli and is made of a network of women made widows of HIV/AIDS and who support children living with or orphaned through HIV/AIDS. They have a village savings and loan association of which 10% of the contributions go into sustaining the network at the end of a calendar year.
What is BOSCO Uganda's Sustainability Plan:
Provide ICT training to the public and corporate organizations, conduct research surveys, offer secretarial services, and internship training in advanced computing.
Infrastructure sharing:
BOSCO Uganda has its equipment set up on 15 towers, 8 of which belong to them and 7 owned by their partners.
The partners allow BOSCO Uganda to host their Wi-Fi equipment on their towers in exchange for free internet access.
Provision and operation of solar equipment:
At St. John Paul college, BOSCO Uganda has set up a 30KW solar system that powers the school and one ICT lab. The school pays BOSCO an agreed-upon amount and maintains the solar system by refilling the batteries and fueling the backup generator while BOSCO does high-end maintenance like providing a cooling system and remote controlling the temperature of the solar room from their Bardege center.
At the Bardege ICT center, users are charged 1000 UGX ($0.27) for one-hour internet access.
Challenges faced by Community Networks in Uganda:
The communal access license passed in Uganda by Uganda Communications Commission (UCC) is very expensive for a community network like BOSCO Uganda, requiring an application fee of about USD 2,500, an Annual fee of 3000 USD, a requirement that a 2% levy on gross annual revenue, and a transfer fee of 2.5% of license's previous year gross annual revenue or 50,000 USD whichever is higher.
The lack of an operational license is limiting BOSCO Uganda's options on revenue models to sustain itself.
The registration process of BOSCO Uganda as an NGO has been difficult which is forcing them to think of an alternative, a move BOSCO Uganda is reluctant to take considering that is the name that publicly identifies them
Cost of Setting Up a Solar Network Station
The network typically uses batteries of between 100 and 200 Ah. The largest solar energy project is in St. John Paul College (equivalent to a high school in Kenya) with a capacity of 30KW, set up in 2017 with support from the University of Notre Dame and Accenture Development partnership.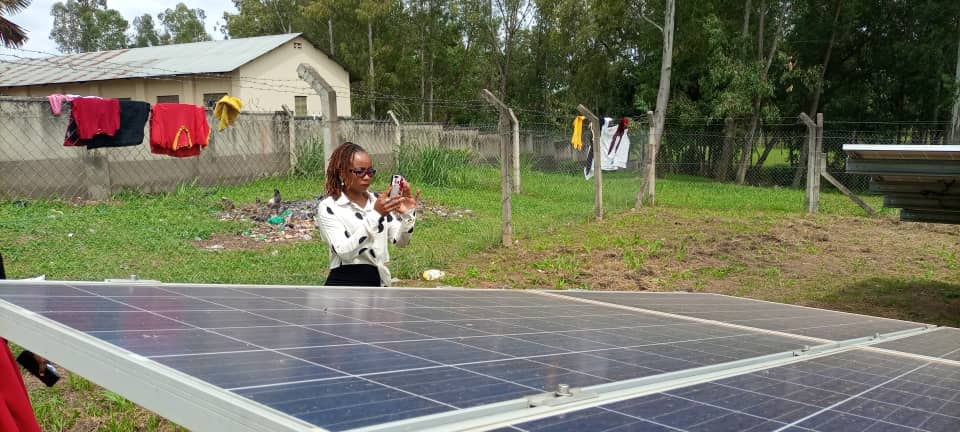 The solar project constitutes 24 batteries each 3610 Ah, housed in a room with fans and a router to ensure remote temperature control access by the BOSCO team. The solar system powers the whole college including one ICT lab.
There are 24 batteries, for each battery, there are 4 solar panels. Each battery costs about 427 USD while each solar panel costs about 160 USD. The charge controller costs about 160 USD and the inverter costs about 320 USD.
The commitment to connecting underserved communities is consistent amongst community networks in Africa, with the movement growing into areas beyond connectivity and value-added access.

As a contribution to meaningful connectivity, BOSCO Uganda has delved into local content creation, is focusing on digital security and planning a learning exchange with its partner peer TunapandaNet on the new Community Networks Service Provider License(CNSPL) and KICTANet who championed advocating for the license.
The trip closed with a dinner hosted by the BOSCO Uganda team on a busy night where Gulu University had just held a graduation ceremony, and nearly all eateries were hosting a graduation party.
After nearly an hour, we managed to get a spot in the middle of the garden. Finally, after 5 days in Gulu, I had pork, a favorite among the locals. After a little deliberation, I have bestowed an Acholi name "Aber" meaning "am good".
This is a series of our publications on Community Networks.
Ms. Catherine Kyalo is the KICTANet Africa Regional Coordinator for Community Networks under the APC-LOCNET initiative. She is passionate about community welfare and enjoys yoga to rejuvenate. LinkedIn |
The article "My trip to BOSCO Uganda" was first posted on KictaNet as "My Trip to BOSCO Uganda – the Diamond in the rough" on the 5th, July 2022.